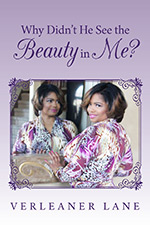 Books:
Why Didn't He See The Beauty In Me?
Areas of Expertise:
Child Welfare
Voluntarism
Non-profits
Seminars or Keynote Topics:
Featured speaker at the PWN International Conference 2019
Verleaner R. Lane, MA. aspiring author and the Associate Director with University of Illinois at Urbana-Champaign, is a contracted employee with the Illinois Department of Children and Family Services, Office of Learning and Professional Development. Verleaner has over 28 years of child welfare experience working with children and families.
Writing her book, she wanted to empower women and girls about their brokenness though they my appear on the outside looking like they have it together. She wants to challenge who we really see in the mirror, and wanted to share her personal experiences dealing with divorce and challenging relationships. This was a time of healing for all of the baggage she carried from one relationship to another because after she thought she cleaned the suitcase out, some small particle of him was left behind.
Verleaner completed her undergraduate work at Northern Illinois University where she obtained a Bachelor of Arts in Sociology/Criminology. Ms. Lane attended graduate studies at Governor State University with a Master of Art's in Early Childhood Education.
You can find Verleaner being a servant in the vineyard with the Top Ladies of Distinction Will County Black Diamond Chapter, where she is one of the chartering members. She is one of the co-founders for Divas Down for The Cause, Inc,. a charitable organization dedicated to supporting and empowering individuals while transforming their life challenges into opportunities for success. Verleaner is a native of Chicago and currently lives in South Holland, IL.